Cookies with Santa coming to Storytime!
Lapsit, Storytime & Library Time Kids & Parents are invited to our special
Story time with Santa at
either
10:30 AM or 1:30 PM
Tue., December 3rd.
Santa will read a wonderful Christmas story followed by pictures and cookies!
The State Library of Kansas has added TumbleBooks online eBooks for kids to its long list of free resources for Kansans. 
TumbleBooks will read aloud or kids can read along picture ebooks for all ages.  The collection includes fiction and nonfiction.  There is no sofware required and no login necessary.  TumbleBooks works on your computer or mobile device!   AR Approved:  The Accelerated Reader information is also available for each book!  Just click the picture below and start reading!

There is still time finish up your Summer Reading Camp Field Guide by reading your 20 books and receive free prizes! Turn in your Field Guide by August 15th and get a free book and an "I Dig Reading" yard sign. BUT Hurry IN by July 24th and also get Coupons to use at the Scott County Fair!
Stop by the Library when Miss Stephanie and Miss Millie are in and ask about digging in the Dinosaur Rock!  There are uncovered fossils and gems still to be found!
Check out our Summer Reading Camp page for all the information and how to enroll!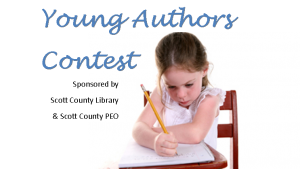 It is time again for the Young Author Contest. Any student in any school in Scott County is eligible to enter the contest. The contest is open to 1st through 12th grade. Entries will be accepted through April 30, 2013 at 6:00 PM. Winners will be announced on May 13th with a reception on August 25, 2013.
Participants in grades 7-12 can enter three divisions; Fiction Story/Poem, Children's Picture Book and Graphic Novel. Students in grades 7-12 may participate in one or all of these categories. A children's picture book is formatted in 32 pages including the title page with illustrations. The Graphic Novel category is similar to a comic book story.
Guidelines and information are available to view and print from the Young Authors Page on this website, or you may stop by the library to pick them up. You may also call the Library at 872-5341 if you have questions. Thanks for your participation!
Scott County Library & the PEO Club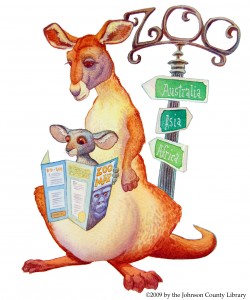 Storytime & Mommy&Me will start back again on Tuesday, January 8, 2013. It will be a wild trip to the Zoo and a visit with our 6 by 6 Kangaroo! Kids will Notice Print All Around with their new Eating Through the Alphabet Recipe Card.
See You All  Tuesday!
Mommy & Me @ 10:05 AM
Storytime @ 10:30 AM or 1:30 PM

Scott County Library Children's Department is excited to kick off the statewide early literacy initiative, 6 by 6!!
What is 6 by 6? This program emphasizes the six skills that parents and caregivers can help children develop before they learn to read, at about the age of 6.
The 6 by 6 program was created by the Johnson County Library and adopted by the State Library of Kansas to promote statewide.
6 by 6 is funded by a grant from the Scott Community Foundation along with materials provided by the State Library of Kansas.
What does 6 by 6 do for you?  It provides parents and caregivers with fun ideas, activities and reading material to share with their children.  Thanks to the grant, we are able to provide paperback books to each child who attends our weekly programming.  We were also able to purchase educational items to put together early literacy kits.  These kits touch on the different areas that help little minds build learning skills.
Click on our 6 by 6 drop down under the Childrens Tab to see our weekly activites and learn more about getting your child ready to read!